Contact Us
Central Mississippi Office
Highland Village, Suite 278
4500 Interstate 55 North
Jackson, MS 39211
Telephone: 601.812.5885
Facsimile: 601.852.1142
----------------------------------------------
North Mississippi Office:
315 Greensboro Street
Starkville, Mississippi 39759
Telephone: 662-268-5096
Facsimile: 662-324-2576
----------------------------------------------
Recent News
July 2012
Lydia won the Women in the Profession Committee "Trailblazing" Award
----------------------------------------------
August 21st, 2012
Lydia spoke about "Embracing Our Obligation Under Rule 8.3" at MWLA meeting in March
----------------------------------------------
Congratulations
June 7th, 2012
Lydia's Blog to be Included in U.S. Library of Congress' Historic Collection of Internet Materials
-The URL for Lydia's blog is lydiastennis.wordpress.com.
----------------------------------------------
Lydia Quarles wins 2012 Joan Fiss Bishop Award
Lydia received the award in Las Vegas at the 2012 National ASPA Conference at the SWPA Awards Breakfast on Monday - March 5th.
Congratulations, Lydia!

Mozingo | Quarles
PLLC
2 AV Rated Lawyers
Mozingo | Quarles, PLLC is a boutique business and commercial practice law firm with offices in Central and North Mississippi. The firm's principals are both AV peer-rated by Martindale-Hubbell and have earned numerous other awards and distinctions. The firm represents its clients' interests throughout Mississippi, throughout the country and internationally. M|Q lawyers practice before all Federal, state and local courts and many administrative bodies.
M|Q offers its clients the skills, experience and resources of much larger firms, without sacrificing the personalized focus and attention that comes with its size. M|Q provides its clients with sound advice and creative solutions based on over 70 years of solid experience and proven results.
Creative Solutions. Sound Advice.
Principal Areas of Practice:
---
Lydia Featured in The Mississippi Lawyer (Winter 2012-2013)
March 2013

The 2011 winner of the Susie Blue Buchanan Award, Lydia Quarles has long been a proponent of women's legal and economic issues and has worked diligently to engage women in politics at every level—local, state and national.

"We have learned from the European Union that a legislative body comprised of 30% women can make a perspective shift," she said. "We need to continue to work to achieve that shift in the US."

And that is precisely what Quarles intends to do as she continues to operate a thriving private practice and engage in government and academic initiatives through her position as a senior policy analyst with Stennis Institute of Government at Mississippi State University.

---
Jim Mozingo Named One of Mid-South's Best Lawyers for Second Year in a Row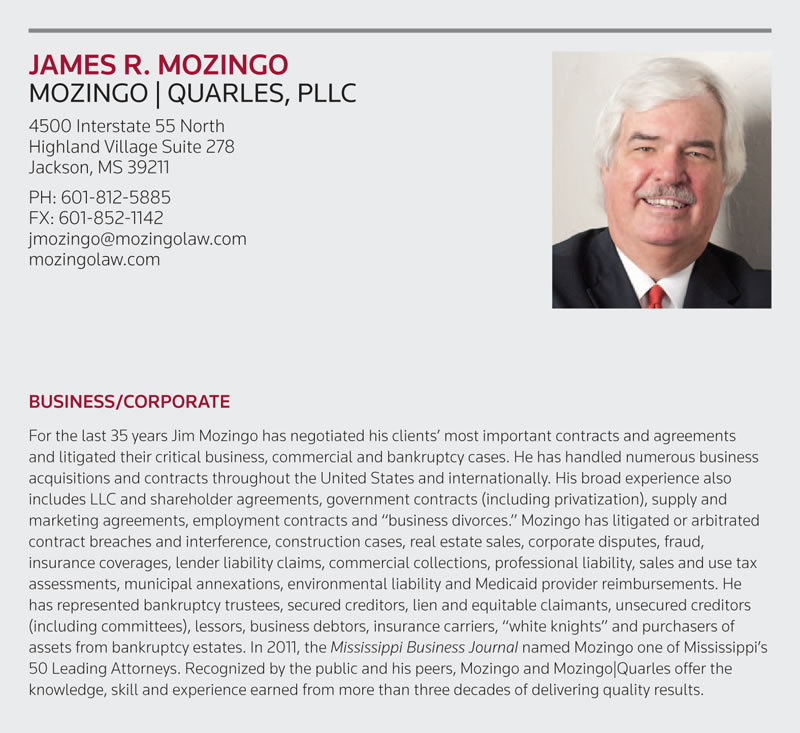 Facebook